Beginnings
Joseph is a luxury British fashion label founded in 1966 by Joseph Ettedgui (born in Casablanca in 1938).It started as a boutique that sold both young designers and his own label which was focused on simple fabrics, often in neutral colours, made of impeccable quality from luxury fabrics. His stores became so influential that he is credited with raising the status of, and giving a platform to, and rocketing the careers of emerging designers like Katherine Hamnett, John Galliano, Kenzo and Franco Moschino. 
Britishness
A recurring theme of 1980s and 1990s Joseph garments is a love of peculiarly British references. As a label based in London, an influence from the UK is to be expected but this sense of British history is particularly over with the 80s and 90s fashions of Joseph. For example a love of tweed, double breasted buttons and argyle are evident in a lot of early designs. See below for a few pieces from our current and previous collection which include a double breasted hunting / equestrian influenced jacket and an argyle patterned sweater.
Even in more recent collections, an expression of Britishness is a constant focus for the brand. AW16 LFW by

LONDON FASHION WEEK

. 
Joseph Tricot
The Joseph Tricot label was founded in 1983 and almost immediately became a cult label , still coveted by collectors today. These fun pieces were a lot more bold and maximalist than Joseph's minimal mainline that focused more on sharp tailoring and cut in luxury fabrics. Some of Joseph Tricot's most successful and collectable designs are the collaborations with textile artist, Martin Kidman, who put romanticized and fantastical symbols such as cherubs,wild beasts and carousels throughout the knitwear. 
The Tricot line was daring, in chunky, textured knit fabrics, reflecting the 1980s ideal of glitzy pattern but still in shapely, flattering silhouettes that are still so current today. A great example of this was our two piece (now sold) that had an oversized sweater with dropped shoulder seams and a botanical pattern throughout but with a matching pencil skirt that created an interesting, feminine shape.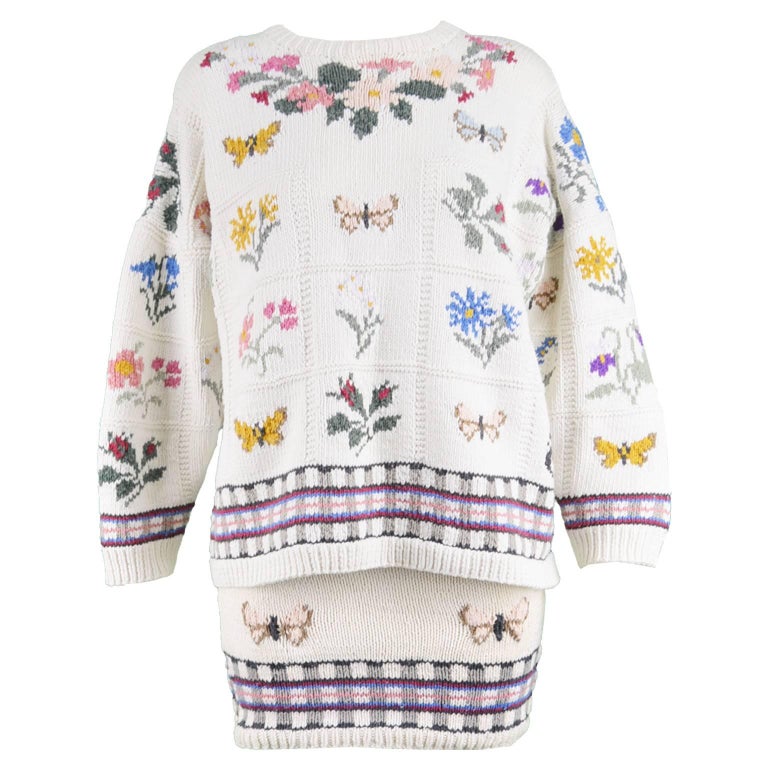 Because Joseph's Tricot line was so successful and became synonymous with their aesthetic the knitwear designs eventually became part of the mainline and still today Joseph has a strong focus on textured, often hand-knit pieces. 
Menswear
Another great aspect of vintage Joseph was their great approach to mens fashion. As with their womenswear, Joseph's inspiration with menswear is usually historical and traditional. Like the Tricot line, Joseph's menswear started as a sub label known as Joseph Homme (with the same quality and manufacturer as their mainline) but it then became part of their universal label. Their menswear became so successful that in the 1990s they opened menswear only stores. Great examples we've had in the shop are this yellow silk carousel style shirt which you can definitely feel Martin Kidman's influence in and a brown tweed jacket with a waxed cotton collar (another nod to the British countryside).